This is an updated article previously published in February 2019.
The payment adjustments from the 2019 Performance Year of the Quality Payment Program (QPP) are being applied to the 2021 dates of service and are showing up in ERA files and on EOBs in physician offices around the country. Please check your EOBs!
As you are reviewing your 2021 Medicare Part B payments, be aware of the following:
CARC and RARC messages are being used

Positive MIPS payment adjustments are designated as 144 Incentive adjustment and N807 Payment adjustment based on MIPS.
Negative MIPS payment adjustments are displayed on RAs as 237 Legislated/Regulatory Penalty

If you did not submit data in 2019, you may see a 7% negative adjustment (shown as a positive amount on your EOB).
Positive payment adjustments are indicated as a negative adjustment on your EOB.
Part B drugs and supplies are not subject to any payment adjustments (positive or negative).
An example of how the adjustments are applied to payments is shown in the chart below. (NOTE: The example below is based on the 2017 adjustment of 4% affecting 2019 payments, but the process is the same.)
Novitas Solutions, the Jurisdiction H Medicare Administrative Contractor (MAC), is responsible for Part B payment processing but the methodology for applying the payments is regulated by CMS.
Here is the 2021 MIPS Payment Adjustment Fact Sheet.
Remember …
If you are an eligible clinician, a LAMMICO insured and have not already implemented a process for capturing or reporting MIPS data in your practice, contact LAMMICO and let us help you! If you already have a MIPS process, we can be an additional resource and discuss options regarding MIPS. There is no charge for our consultation. These services are provided to you because you are a LAMMICO insured.
Participation in the Quality Payment Program may also help you mitigate your malpractice risk through tracking and improving quality care (Quality measures), increasing patient engagement and satisfaction (Improvement Activities) and improving communications using secure electronic transmissions between providers and with patients (Promoting Interoperability).
MIPS Payment Adjustment Example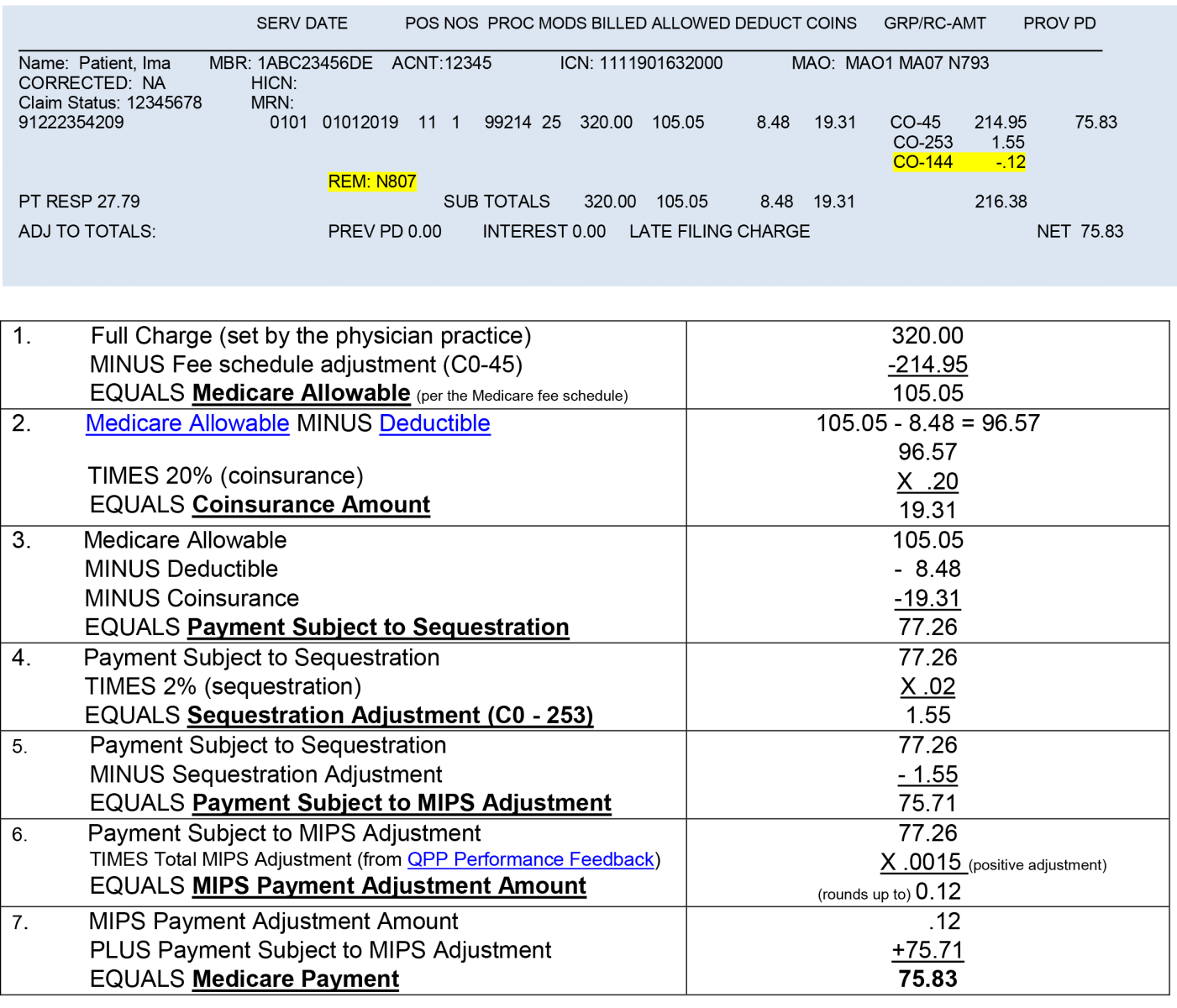 Please note: In this example, the physician only earned a small positive payment adjustment of 0.15% in 2017. Although the $0.12 adjustment may not seem worth the effort of reporting data, if this same provider had not submitted any data, the penalty would have been -4%. Using this same example, the provider would have been penalized $3.09 for this one service. Remember, the MIPS adjustment is calculated on all Part B Professional Services. The financial impact can be significant.
If you have any questions or need additional information, contact LAMMICO Practice Management Specialist, Natalie Cohen, MBA, MHA, at 504.841.2727 or ncohen@lammico.com.
This is not legal or financial advice, and is not intended to substitute for individualized business or financial judgment. It does not dictate exclusive methods, and is not applicable to all circumstances.
For more information about Practice Solutions and to access our risk mitigating resources, visit lammico.com/practice-solutions-login.
This content is accurate as of January 5, 2021.