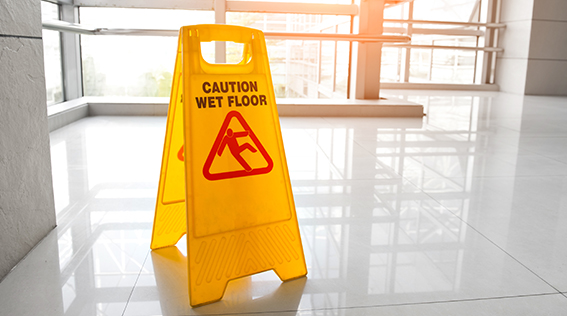 prat [or] pratt from the old English. The human posterior.
Pratfall n. a fall, a staged tumble on the buttocks, often regarded as comical or humiliating. A stock gag for the circus clown, dating back at least to the days of vaudeville.
Intentional falls for entertainment require skill and practice to avoid injury, How to Prattfall by Clowns Without Borders
The 1950's comic Red Skelton, in the prehistoric age of black and white television, often performed a pratfall for an easy laugh. Modern comedy is, in some ways, more sophisticated, and so falls are now rarely part of a successful comic routine.
Falls are probably the least amusing to those employed in healthcare, given their front row seat to the financial and painful consequences. Of course, there is also nothing funny about lawsuits. Fall lawsuits churn through hospital money and time that could be better used for patient care, employee benefits or new equipment.
Other than medical malpractice, falls are the most common legal claim in hospitals. Hospitals are big, complex organizations, and it may be hard to see what should be done. To reduce falls, every employee should be on the lookout for the conditions that cause falls.
Safety is everyone's job, not just that of the risk manager or nurse. Everyone can do the seemingly little things that may prevent a fall. Take ownership:
Straighten up wrinkled mats, report disrepair.
Be on the lookout for wires or trash on the floor.
Immediately report water on the floor; stand by to direct pedestrians until it is cleaned up; use warning cones.
Report loose doorsills.
If floor entrances are slippery after rain:

Provide and use umbrella covers.
Recommend use of anti-slip paint and nonskid surfaces.

Paint changes in level yellow in entrances and parking lots.
What to do when you witness a fall:
Note the facts: the physical aspects of the floor, presence of warnings, condition of shoes.
If the circumstances warrant, immediatly notify facility management, risk management or security.
Attempt to get names of the person who fell and all witnesses. If they will not give their names, record a physical description. Do not, however, try to block the person or witnesses from leaving.
In all cases, complete an occurrence report, even if the fallen person appears unhurt.
Express empathy.
LAMMICO offers a monograph on falls prevention free of charge to insureds through our subsidiary risk management company, Medical Interactive Community. To access the monograph entitled "Falls Prevention for Hospital Staff", log in as a Member, click "Go to MI", and search for the course.
For more information on how to help prevent falls in your hospital or facility, contact the LAMMICO Risk Management and Patient Safety Department at 504.841.5211.