Physicians and other healthcare professionals who treat patients for pain may benefit from reviewing a report from the United States Department of Health and Human Services (HHS) called Pain Management Best Practices. This report, issued in May 2019, builds on and clarifies the 2016 Guideline for Prescribing Opioids for Chronic Pain released by the Centers for Disease Control and Prevention (CDC).
The 2019 HHS report says that while the 2016 CDC opioid prescribing guideline gives valuable advice on pain management, some of its recommendations have been misinterpreted. These incorrect interpretations have produced a number of unintended consequences. The 2019 HHS report addresses and explains misinterpretations of the CDC guidelines. Here are some examples: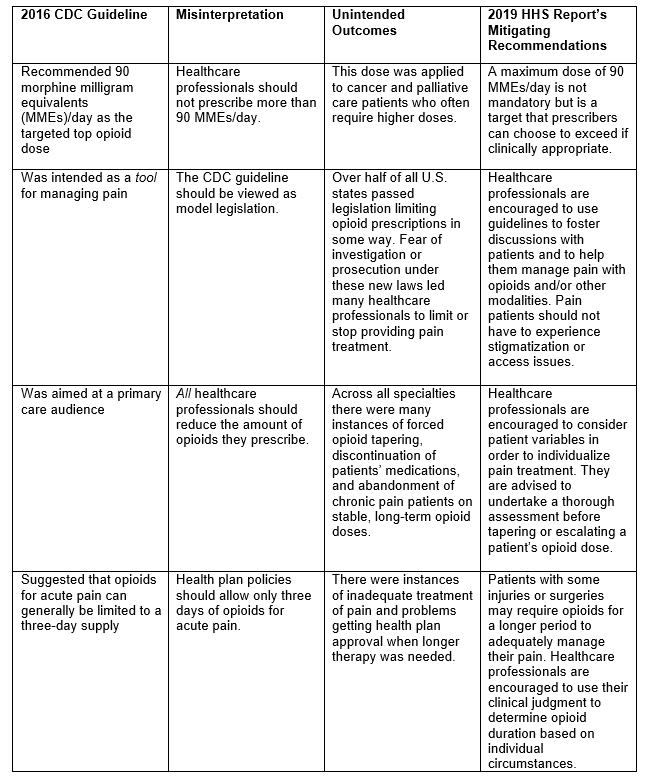 Examine the patient and diagnose specific causes of the reported painBesides offering recommendations to address misconceptions about the 2016 Guideline for Prescribing Opioids for Chronic Pain, the HHS report seeks to help physicians and other healthcare professionals continue to improve pain care. The report presents and elaborates on the following fundamental actions for safer pain management:
Communicate and collaborate with the patient to form an individualized, patient-centered approach to pain management
Evaluate the risks and benefits of opioid medication and other medications as part of the pain management plan
Adopt a multidisciplinary approach to pain management that – in addition to pharmacologic therapy – considers non-pharmacologic approaches such as restorative therapies, interventional procedures, behavioral health approaches, and complementary and integrative practices
Set and periodically review goals for each pain patient in order to foster the best possible clinical outcomes and to protect public health
The HHS report notes that in the U.S., 15% of adults have daily pain, and 6% of adults have high-impact pain that restricts their ability to work or limits their daily activities. The HHS report also observes that hundreds of thousands of people in the U.S. have died from overdoses of prescription opioids, heroin and synthetic opioids over the past 20 years. Thus, our country is currently experiencing a pain crisis and an opioid crisis. Physicians and other healthcare professionals are positioned at the intersection of these two situations, responsible for treating patients' pain and for curtailing opioid-related risks. The specific strategies in the HHS best practices report can aid doctors as they balance these responsibilities.
To see the full HHS Pain Management Best Practices report, click here.